Discover our extensive meeting possibilities
Mitland meeting rooms are ideal for a wide range of events. Due to our large diversity of rooms, you can accommodate groups of up to 180 persons at Mitland Meetings. We have all modern (technical) facilities for giving presentations.
Thanks to our excellent service, central location, inspired setting and broad possibilities you will find all the ingredients at Mitland Meetings that will make your meeting an unprecedented success! A quiet location in an inspired environment, a place to remember.
Different seating arrangements are possible in the rooms. You can discuss your interests with our staff, so that we can prepare everything for your meeting in detail. We are happy to do this for you.
Our rooms are equipped with climate control and have free Wi-Fi. Mitland Meetings is located next to the A27 highway and close to exit roads to Amsterdam, Amersfoort, Arnhem, The Hague and Breda. In addition, there is ample parking for you and your guests. We are also easily accessible by public transport.
Want to know more?
Enthusiastic about our services? And would you like your meeting to take place at the most beautiful location in Utrecht? Please contact us at +31 (0)30 271 58 24 or info@mitlandmeetings.com and come and experience it for yourself.
Overnight accommodations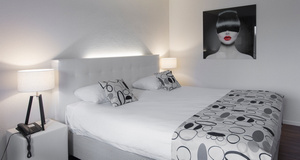 Mitland Meetings has all the facilities to make your stay as pleasant as possible. All room types are full of ambiance, comfortable and fully equipped.
More about overnight accommodations
Interested in a quotation?
Do you want to organise a meeting? Request a free quotation and discover the possibilities Mitland Meetings has to offer.
Request quotation